M.Sc.Agronomy Position: M.Sc. – Understanding groundwater, agronomy, and drainage system design influences on tile water quantity and quality.
Project: The goal of this research partnership is to examine how various types of tile drainage systems impact groundwater quantity and quality, and conversely how spatiotemporal variations in groundwater elevation, quality, and geology influence tile drainage.
The proposed research will be undertaken at the Huronview Demonstration Farm located near Clinton, Ontario. This project will be undertaken in partnership with the Ausable Bayfield Conservation Authority, OMAFRA, Huron County Soil and Crop improvement Association and the Land Improvement Contractors of Ontario.
The M.Sc.Agronomy candidate will contribute to the proposed research by focusing on the characterization of the subsurface geology through the collection and analysis of soil/sediment cores on site and integrating these data with geophysical and hydrogeological datasets to refine the site conceptual model.
Previous field experience logging unconsolidated sediments as well as experience working with geophysical datasets are considered an asset.
ALSO READ:
How To Apply For M.Sc.Agronomy Position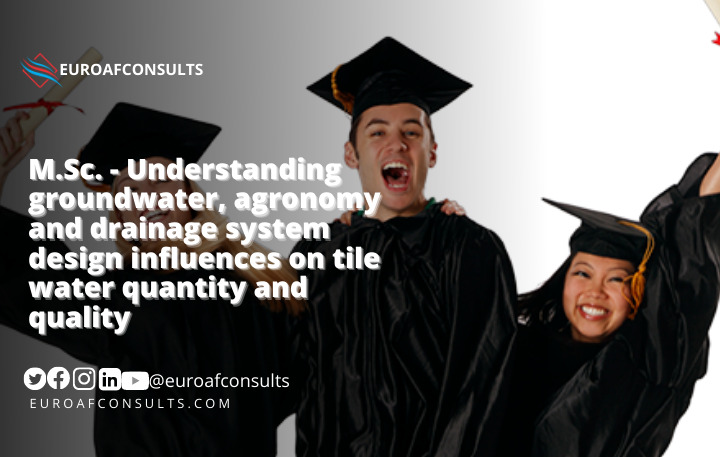 OAC Academic unit: School of Environmental Sciences
Advisor: Dr. Emmanuelle Arnaud (earnaud@uoguelph.ca)
Start Date: Winter or Summer 2022
Duration: 2 years
Stipend: $16,500/year
Stipends and awards: The successful candidate will be encouraged to apply for a range of scholarships. Only successful applicants will be contacted for an interview.
Pre-requisites:
BSc in Earth Sciences, Geoscience, Geology or related discipline.
Application instructions For M.Sc.Agronomy Position: Please contact Emmanuelle Arnaud at earnaud@uoguelph.ca for more information or to apply for the position. To apply, please send cover letter outlining your interest in this position as well as how your background makes you a suitable candidate, resume/CV, and a copy of your unofficial transcript.