FAO Hungarian government scholarship for the year 2022/2023 is now open for international students having the desire to go abroad for studies. The fully-funded scholarships are available for citizens of selected developing countries.
The FAO Hungarian Government Scholarship is open to applicants who wish to advance their career in the field of Agricultural science-related masters program in the eligible country.
Interested and eligible candidates are advised to apply for the scholarship before the deadline
Apply Now: UAL/ISH International Postgraduate Scholarships 2022
Program Details Of FAO Hungarian Government Scholarship
Host institution: The Hungarian University of agriculture and life sciences in Hungary.
Host Country: Hungary
Degree Level: Master's degree program
Field of study: Master in the field of Agricultural science
Language: English.
Program duration: 22 months
Scholarship coverage: fully funded
Application Deadline: April 28, 2022.
Apply now: The Cameron Impact Scholarship 2022 USA
Food and Agriculture Organization(FAO) is a specialized agency of the United Nations founded in 1945 that leads international efforts to defeat hunger. The organization consists of 194 members, 2 associates, 1 member organization, and the European Union.
ELIGIBILITY CRITERIA FOR Hungarian Government Scholarship
Applicants from eligible listed countries.
Applicant should not be above 30 years old.
English language proficiency is required for courses taught in English.
Excellence, outstanding academic performance.
Applicants should be in good and stable health condition.
Applicants must have obtained a good bachelor's degree in relevant courses from a recognized university.
Apply Now: Université Paris-Saclay International Master's Scholarships
ELIGIBLE COUNTRIES FOR FAO HUNGARIAN SCHOLARSHIP
Afghanistan, Albania, Algeria, Angola, Azerbaijan, Armenia, Bangladesh, Belarus, Bosnia and Herzegovina, Burkina Faso, Magnolia, Montenegro, Namibia, Nigeria, North Korea, State of Palestine, The Philippines, Republic of Cabo Verde, Serbia, Somalia, South Sudan, Tajikistan, Turkmenistan, Uganda, Ukraine, Uzbekistan, Vietnam, Yemen, Cambodia, Chad, Egypt, Ethiopia, Gambia, Ghana, Jordan, kayaksstan, Kenya, Kosovo 1, Kyrgyzstan, Laos, Lebanon, North Macedonia, Madagascar, Mali, Myanmar, Republic of Moldova.
BENEFIT OF HUNGARIAN GOVERNMENT SCHOLARSHIP
The scholarship covers application and tuition fees throughout the study.
Basic books and notes are provided
Accommodation fee
Subsistence costs
Health insurance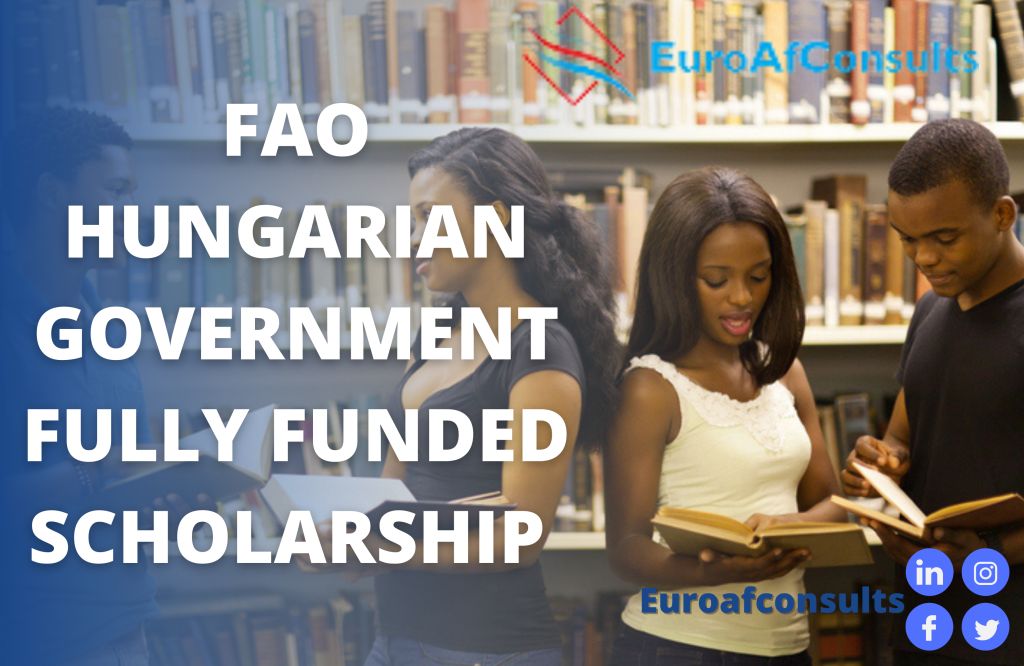 HOW TO APPLY FOR THE HUNGARIAN GOVERNMENT SCHOLARSHIP 2022-2023
The application form is provided on the official website for students to apply.
Supporting documents requested in the application form should be provided.
The application form should be carefully completed
Submit the application form.
The submitted application form signed by the applicant, with the supporting documents, should be emailed to the provided email address (REU-scholarship@fao.org.)
The application form will be screened by the FAO and sent to the ministry of Agriculture Hungary.
The application will be sent to the university by the ministry of agriculture.
The University will conduct oral or written tests of the selected ones.
REQUIRED DOCUMENT FOR THE APPLICATION.
Completed application form
Recent curriculum vitae
A copy of the certificate of English Language proficiency
High school certificate/ college diploma and transcript
Statement of purpose
A health certificate is written by a certified medical doctor
Certificate of good conduct by the local police authority.
Recommendation letter from workplace or school
A copy of relevant pages of passport showing passport number and expiration date.
Apply Now: University of Birmingham Global Masters Scholarships
Note: all the submitted FAO Hungarian Government Scholarship documents should be in English, any document submitted in any other language will be foiled.
All documents should be saved with a name that identifies them.
An applicant who was not selected in the previous years can re-apply by submitting the complete dossier using email only.
All other questions concerning the scholarship program or the application process should be emailed to FAO at REU-scholarship@fao.org.
SELECTION PROCESS For Hungarian Government Scholarship
the following selection process applies to scholarships beginning in September 2022.
The selection takes place in two phases
Phase 1: FAO will prescreen the candidates then submit applications to the Ministry of Agriculture, Hungary, who will send the application to the corresponding university chosen by the applicant.
The applicant shall submit only completed dossiers as incomplete dossiers will not be considered. A file without a name will not be processed.
Phase 2: selected candidates will be asked to take either a written or oral English examination as part of the admission procedure.
Each corresponding university will run a further selection process and inform each of the successful candidates via email.
The selection will be made by the universities only, only selected candidates will also be notified by email.
Apply here now For FAO Hungarian Government Scholarship
Immigration to the UK- UK Visas and Immigration
Commonwealth Distance Learning Scholarships for Developing Countries