Study In Flinders University: 2021 AGRTP Scholarships For International Students-The Australian government, through the Australian Government Research Training Programme Scholarships (AGRTPS), sponsors international students who have outstanding academic and research records and are interested in pursuing Higher Degree by Research in Flinders University, Adelaide, Australia.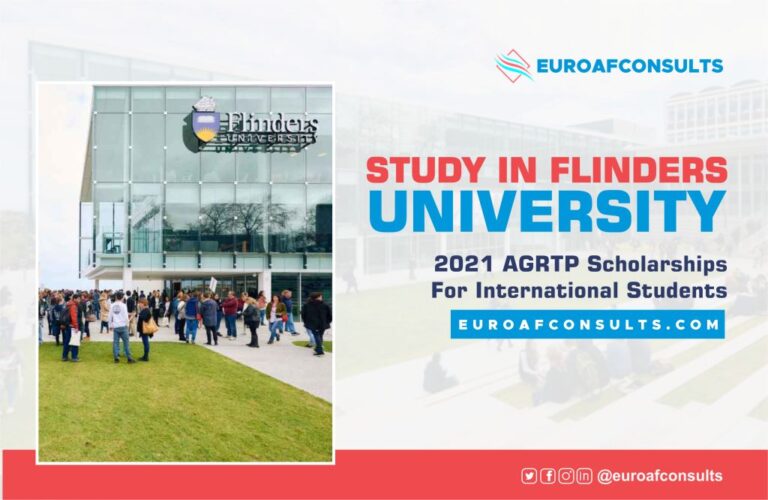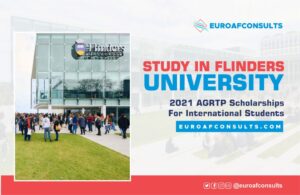 The AGRTPS completely offsets your tuition fee, provides stipend for your living, and guarantees your Overseas Health Care. The sponsorship for Research Doctorate degree is for three years, and two years for a Research Masters degree.
You should note that this scholarship for international students is very competitive, as it is limited to (or slightly more than) five candidates and is awarded strictly on the grounds of academic achievement. In addition, you should exhibit an outstanding capacity for independent research.
To be eligible for AGRTPS International, you must not have permanent residency in Australia, neither should you hold Australian citizenship nor New Zealand citizenship.
Table of Contents
1.0 SCHOLARSHIP SUMMARY
2.0 ELIGIBILITY
3.0 REQUIRED DOCUMENTS
4.0 HOW TO APPLY
5.0 BENEFITS
1.0 SCHOLARSHIP SUMMARY
Organization:       Australian government via AGRTPS
Program:               Masters degree by research; and Ph.D. by research
Award:                   Free tuition, a living stipend, and health care allowance
Application mode:         Online
Scope of Award:             All countries
Place of study:                Flinders University, Australia
Language:                        English language
Application Deadline:    6 August 2021
2.0 ELIGIBILITY
You must be an international student, which means you should have neither Australian citizenship nor New Zealand citizenship and are not permanently domiciled in Australia.
You must possess an Australian equivalent of First Class honors and has major research work in your final year of undergraduate studies.
This must be your first time pursuing a Higher Degree by Research (HDR) in Australia. Therefore you must not have such credential or its equivalent at the time of application.
You must satisfy Flinders University's English proficiency level test for international students. Evidence of proficiency in English language must be provided and should not exceed three years upon the time of application for the scholarship. See the University's English proficiency criteria here.
You must have a travel exempt in order to cross the Australian borders, in lieu of the Coronavirus pandemic.
You must present all required documents below.
3.0 REQUIRED DOCUMENTS
Research Supervisor

Upon your application, you must provide email evidence of an academic staff member who, in the said email, has assented to being your research supervisor should your admission be successful. The email evidence should be saved in PDF file entitled "SURNAME_Supervisor confirmation".
NB:

To contact an academic staff member, click here.
If you have problems securing a supervisor, communicate with the University through the email: hr.admissions@flinders.edu.au. But ensure to state the research terms you used in finding a supervisor, the information you fed the supervisor contacted, name of supervisor contacted, and evidence of returned mail of the supervisor.

 Research Experience Statement

You must present evidence of your previous research publications, which may be up to five (for Ph.D. candidates) but not more.
Ensure you provide a cover sheet for each research, plus a brief explanation for choosing those publications. Any other publications other than those five may be listed in your curriculum vitae.
Publications must be in English and should not exceed five years old at the time of application.
Your research experience statement should not be more than two pages and should include:
Contact details (eg. Skype, email, phone)

University or course where you undertook the research; thesis title; word length; and abstract
Relevant research employment experience, if any
NB: The file should be saved in PDF as "SURNAME_experience".

Transcripts

Your university transcripts in English (or translated to English) must be provided.
Save it in PDF as "SURNAME_transcript".

Proposed Research Outline

Provide a research proposal explaining the "what", "why", and "how" you intend to carry out the research. This should be approximately 500 words.
Your research outline should embody the following:

Title
 Objectives
How your proposed research aligns with your supervisor's work or field
Contributions to publications in that area
Methodology of research
Timeline, that is, how long the research might take
 Bibliography
Estimated cost of the research
Save the document in PDF as "SURNAME_research outline".

Curriculum Vitae

You must present your curriculum vitae, which must be up to date and includes all your research experiences, work experience, and a full list of cited publications.
Save in PDF as "SURNAME_curriculum vitae".

Academic References

You must submit two Academic Referee's Confidential Report forms.
Complete the Section A of the forms and send each to an academic referee who can attest to your research potential and academic ability. The referees should then submit the form to: rhdscholarships@flinders.edu.au.

Document Formats

All documents must be in English.
They must be saved as PDF files and uploaded in the correct orientation.
Documents must not exceed 8MB in size. (You can use the "Adobe PDF Files, Optimised" option in Adobe to reduce the file size.)
Save all documents with your file name + respective document name. For example: WESLEY_transcript; WESLEY_research outline; etc.
4.0 HOW TO APPLY

Apply for Admission

You should first apply for admission to Flinders University. (If, however, you've been offered a valid admission for HDR in Flinders University, you do not have to apply again.

Go to the Studylink here. Read and accept the terms and conditions and then proceed with applying for admission.
After about an hour, having completed the admission application, you will receive an email that contains your Flinders Authentication Number (FAN).
Next, activate your student account with your FAN.
Click

here

to activate your student account.

   Now Apply for the AGRTP/FIPR Scholarships

In the Student Information System via your OKTA dashboard, you can now apply for the scholarship using your active FAN.

To do that, click here and select the tab "My Scholarship".
Note: The scholarship is identified as International RHD  Scholarship group.

Frequently check your email for further information and directives. Your supervisor will also feed you with more information about what next to do.
If in any case you are required to contact education agents in your country, click here to find one in your country.
For Flinders University FAQs, click here.
5.0 BENEFITS
Absolute offset of tuition fees for two years (for Masters HDR) or three years (for Ph.D. HDR) in Flinders University.
A living stipend of $28,594 annually (2021 rate), which is tax-exempt.
Establishment allowance of $1,485 if you are moving to Flinders from overseas, provided you present your travel receipts.