Massey University doctoral Scholarship programme for Domestic and International Students in Newzealand-Massey University is providing Doctoral funding to high-achieving applicants in order to encourage and sustain them. Academic performance and strategic research priorities will be considered when awarding the sponsorship.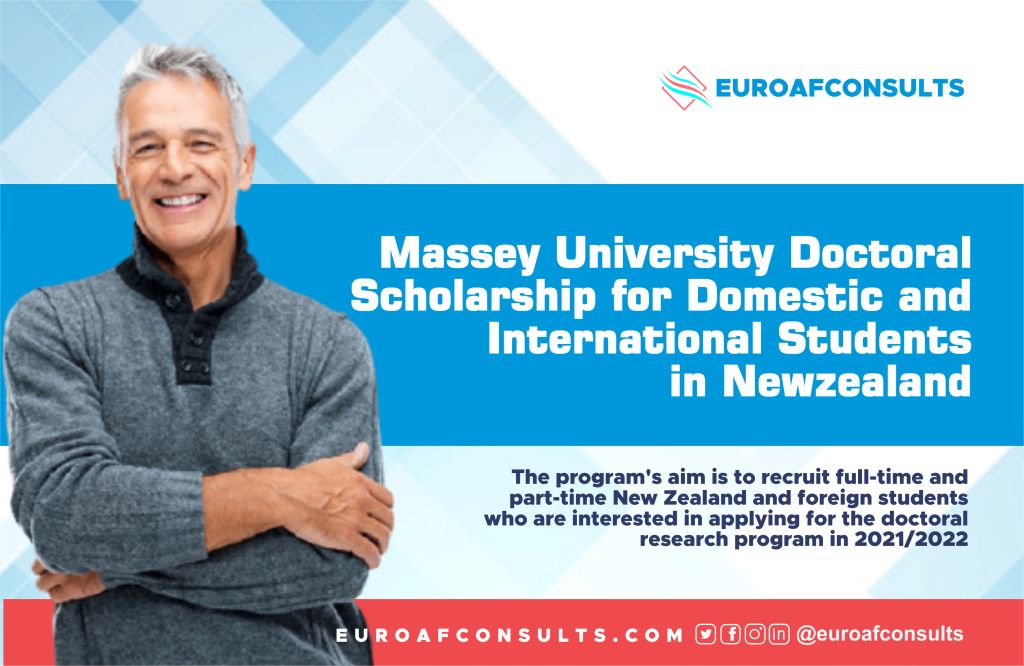 massey university doctoral scholarship
The program's aim is to recruit full-time and part-time New Zealand and foreign students who are interested in applying for the doctoral research program in 2021/2022.
Massey University is a leading educational institution in New Zealand. Itis passionate about the principles and values of environmental responsibility and lasting resource management at local, national and international levels.
ALSO RECOMMEND: List of Eligible Countries for DAAD Scholarship Programs
Brief Description
University: Massey University doctoral Scholarship programme 
Department: NA
Course Level: Doctoral
Awards: $25,000 per annum
Access Mode: Online
Number of Awards: To be determined
Nationality: New Zealand and international students
The award is available in New Zealand.
Eligible Countries: Applicants from all countries are eligible to apply.
Acceptable Subjects or Courses: The sponsorship will be provided to students pursuing a Ph.D., a Doctor of Clinical Psychology (DClinPsych), or a Doctor of Social Work (DSW) (DSW).
Criteria that are acceptable: To be considered, applicants must have a conditional or unconditional offer of a position in a Massey University doctoral Scholarship programme , or be enrolled in the provisional year of a doctoral degree at the time of the application deadline (prior to confirmation of registration). Candidates may apply for both full-time and part-time positions.
How to Apply: Applicants must download and complete the application form before sending it to scholarships@massey.ac.nz.
Application materials should include a full CV, a cover letter detailing your research interests, and the names and contact information for two academic referees.
Candidates must be enrolled in their accepted course of study as a full-time or part-time student at Massey University to be considered for admission.
International applicants must meet the English language criteria for postgraduate studies at Massey University.
The benefit of a doctoral support from Massey University would be a stipend of $25,000 per year and payment of tuition and non-tuition fees for a period of 36 months of full-time study. Part-time study will include a $15,000 annual stipend as well as payment of tuition and non-tuition fees for up to 60 months.
Application Deadlines: For the next year's tenure, applications close on October 1st, and for the present year's tenure, applications close on April 1st.
massey university doctoral scholarship programme, massey university doctoral scholarship, massey university, university doctoral scholarship programme massey university doctoral
We Also Recommend
Masters by Research Scholarships for International Students at Victoria University, Australia
Academic Merit Awards for International Students at Young Harris College, USA
Undergraduate Scholarship For International Students At Cape Breton University, Canada