Masters by Research Scholarships for International Students at Victoria University, Australia
masters by research scholarships – Victoria University is a public research university in Melbourne, Australia, that is ranked #551-560 in the QS World University Rankings for 2021. Its mission is to do high-quality and innovative applied and translational research that results in healthier, more intelligent, and sustainable communities in the west of Melbourne and beyond, as well as to connect deeply with industry and the community, which in turn enhances the university's reputation. masters by research scholarships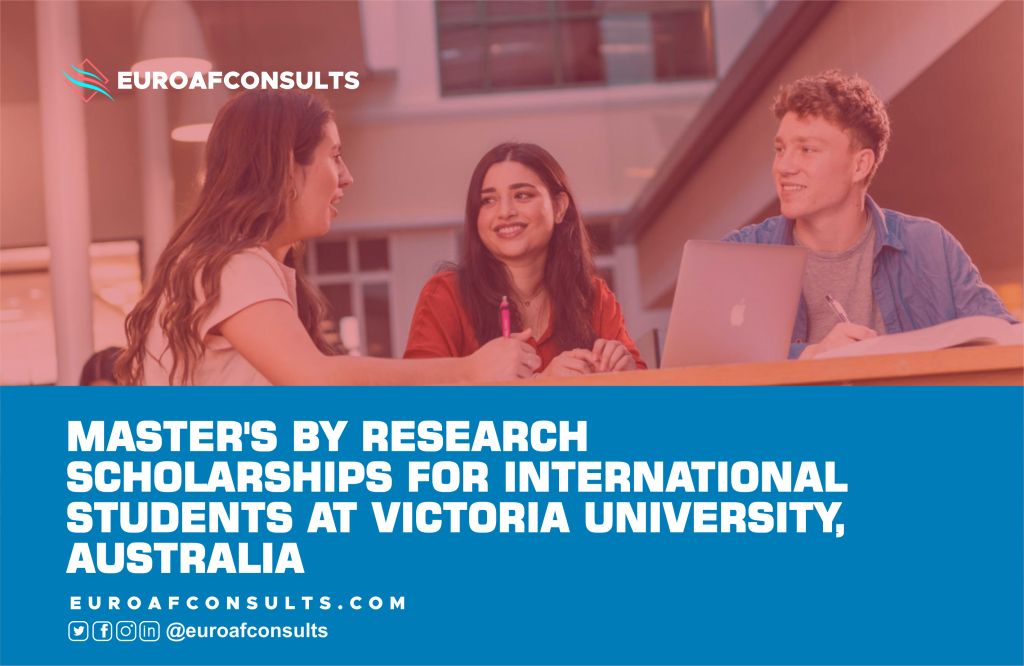 Why should you attend Victoria University? Victoria University has collaborated with institutes and works with them to give work experiences. It also employs an educational model in which class sizes are minimal and batches of pupils are limited. As a result, better and more targeted learning and teaching are implemented. In Australia, it is ranked first in employability and second in collaborative skills. List of Eligible Countries for DAAD Scholarship Programs
Brief Description         
University or Organization: Victoria University
Department: NA
Course Level: Master's by research
Award: 100% Tuition fee
Number of Awards: NA
Access Mode: Online
Nationality: International
The award can be taken in Australia
Affiliation
All nationalities are eligible to participate.
Eligibility
Eligible Courses or Subjects: Applicants are eligible to apply to any of Victoria University's master's by research programs.
Eligibility Criteria: Applicants must meet all of the following/given criteria to be considered eligible:
Applicants must be accepted into their desired degree program at the university.
Applicants must declare whether they are international citizens or residents.
Applicant Instructions
How to Apply
After logging in to the university portal, applicants must complete the online application form.
The applications of those who have been accepted will be taken into account.
Documents to Support Your Application: Applicants must submit the following documents:
Completion of a secondary school qualification comparable to a year 12 certificate or a bachelor's degree in Australia.
Transcripts from all institutions and universities that you have attended, and a copy of your current passport
Health Care Insurance
Admission Requirements: Applicants must have a relevant Bachelor's degree with an above-average GPA.
Language Requirement: Applicants must pass the following English language competency tests with the appropriate minimum scores:
IELTS – 6.5
TOEFL IBT – 79
PTE – 58-64
CAE – 176
EAP – Level 6
Benefits
The successful applicants will receive a full tuition fee waiver, an honorarium of up to A$10,000, and a candidacy budget of up to A$3350 from Victoria University.
For premium services   Masters by Research Scholarships for International Students to learn more with some of our ebooks
scholarships for international students, research scholarships for international, masters by research scholarships, research scholarships for international students
We Also Recommend
Academic Merit Awards for International Students at Young Harris College, USA
Undergraduate Scholarship For International Students At Cape Breton University, Canada
Study In Flinders University: 2021 AGRTP Scholarships For International Students
DAAD Scholarship Research Grants – Doctoral Programs in Germany