DAAD Scholarship Master of Science (MSc) in Development-Related Postgraduate Courses for MSc and Ph.D. applicants to study in Germany, 2022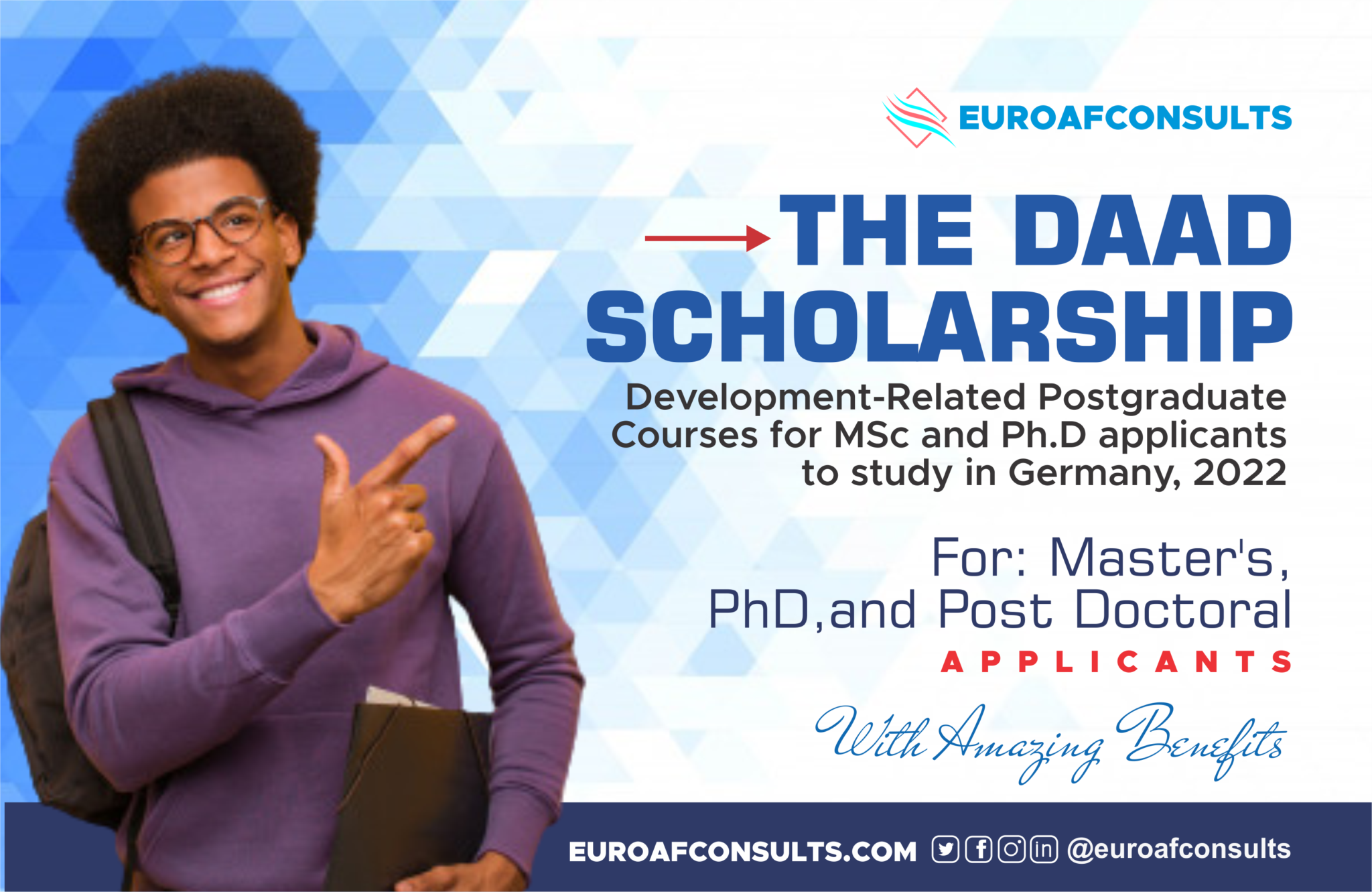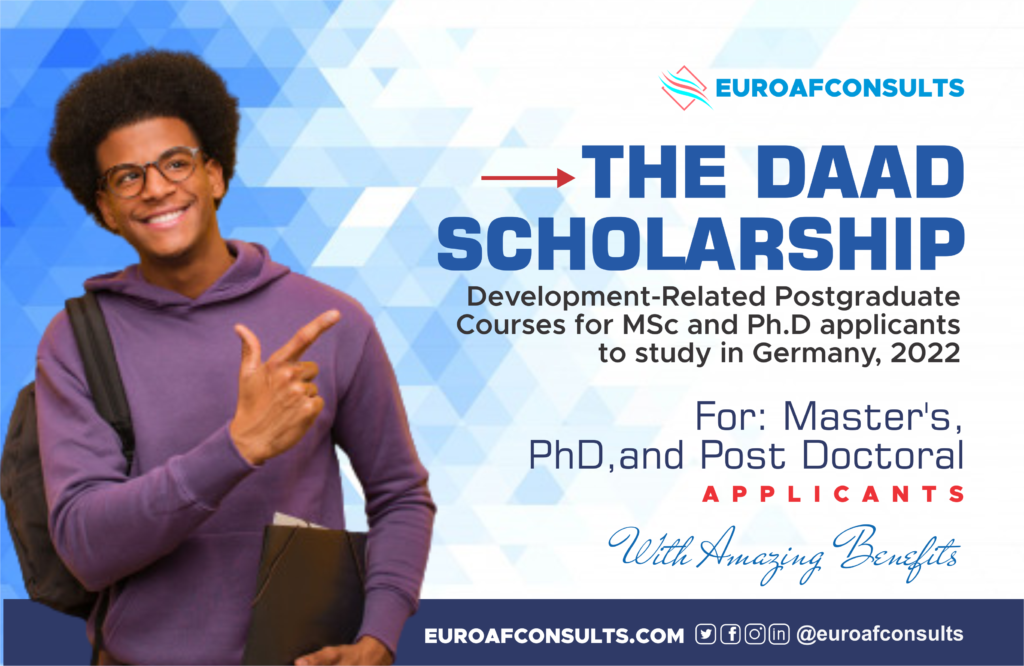 Brief description DAAD Scholarship Master of Science (MSc) and Ph.D. in Development-Related Courses
This is one of the various scholarship programs offered by DAAD, specifically for candidates from developing and newly industrialized nations, to study or carry out research in Germany. It is targeted at:
Benefits (what the scholarship covers)
Tuition fee                                                                                           No tuition fee (free)
Monthly allowance for graduates (eg. MSc) students                          €861 Euro
Monthly allowance for doctoral/PhD students                                     €1200 Euro
Travel Allowance from home country to Germany                              €1200 depends on the country
Health insurance, accident, and personal liability insurance And depending on the scholarship program, DAAD also provide additional benefits such as;
Study allowance (twice – at the beginning & end of study)                 €460
Research allowance                                                                             €500/year (depends on program)
Family allowance                                                                                 Spouse: €300, Children: €200 /month
Fund for language course (one-off)                                                      €2800
Preparatory Language Course: DAAD sponsors a compulsory preparatory German language course of 2 to 6 months before the start of your study in Germany.
Watch Video of the step-by-step application process (with an exemplary application)
Requirements and Prerequisites
The typical applicant for this scholarship should:
Eligible Countries for DAAD Scholarship Master of Science (MSc) in Development
Under this category of Development-Related Postgraduate Courses, offered by DAAD, applicants must come from one of the following eligible countries. However, if your country is not on the list, you can still check the Over 190 different DAAD scholarship programs offered to scholars from different nationalities.
Level of study:                                    Masters (MSc) and Doctoral (Ph.D.)
Program Duration:                             12 to 36 months. Depends on the length of your chosen program
Funding organization:                       DAAD
Study location:                                  Germany
Language of instruction:                 German or English
Application Deadline:                      Depends on the chosen program of interest. View deadlines here
Courses Eligible for Funding: DAAD Scholarship Master of Science (MSc) and Ph.D.:
Currently, DAAD sponsors Postgraduate (Master's) and Ph.D. courses in the following fields:
Documents needed for DAAD scholarship application (in the following order):
How to Apply and Selection Procedure
Note:
Written by Chukwuemeka L. Ihemaguba
Hello, Thank you for visiting and reading through the article.
My name is Chukwuemeka L. Ihemaguba, the founder and CEO of EuroAfConsults. Having completed my bachelor's degree in Industrial Physics, Nigeria, I won a prestigious scholarship and proceeded to the University of Miskolc, Hungary, where I obtained my master's degree in Materials Engineering with a Distinction. Thereafter, I moved to Ruhr University, Bochum, Germany for further studies, and I'm currently working at this university, as a research assistant at two different institutes: Laser Application Technology  & High Entropy Shape Memory Alloys. I am passionate about helping international students achieve their goal of studying abroad, either on scholarship or self-sponsorship, hence this platform was developed for this purpose.