Any difference between Fellowship and Scholarship? – You are not alone if you are concerned about paying for your college education. The cost of attending college is extremely high, and determining how you will pay for it can be extremely stressful. Let's talk about fellowship and scholarship.
Financial aid can help you defray some of the costs of attending college. Scholarship and fellowship are two of the most common types of financial aid. The two terms are frequently used interchangeably, but they are not interchangeable.
Continue reading to learn the key distinctions between scholarships and fellowships. Before you begin applying, it is critical that you understand how they differ.
RECOMMENDED: Why do we go for a Masters degree or PhD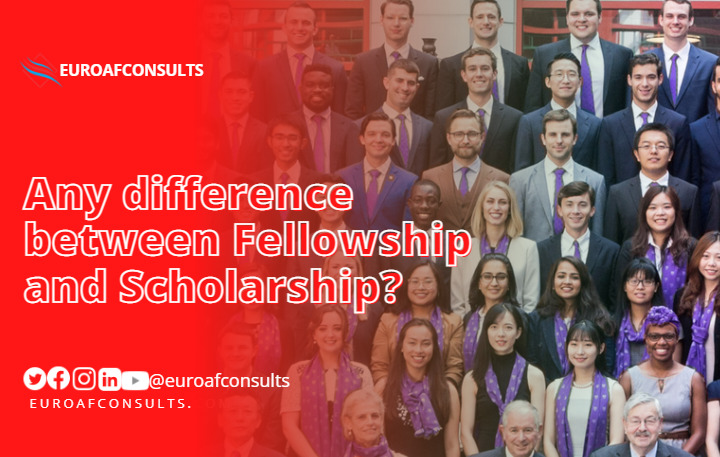 What Is a Scholarship?
A scholarship is a type of financial aid that you can receive to help pay for your college costs. Scholarships are the best way to pay for college because you don't have to worry about repaying the money later. Scholarships are available to help you pay for your undergraduate and graduate studies.
A scholarship does not require you to be a high-achieving student. There are many merit-based scholarships available, but there are also many need-based scholarships. Scholarships are available for students who demonstrate volunteerism, leadership, or athletic ability.
Scholarships are given out by colleges, the government, private organizations, and non-profit organizations. Scholarship funds can be used to pay for tuition, books and supplies, and room and board.
Scholarships range in value from $100 to full-ride scholarships. Apply for as many scholarships as possible. You can combine scholarships to obtain a sizable financial aid package.
RECOMMENDED:
What Is a College Fellowship?
Fellowships are grants given to students to help them with their graduate studies, professional development, and research. They enable students to delve deeply into a specific academic interest.
Fellowships are always merit-based awards, as opposed to scholarships, which may take financial need into account. Fellows demonstrate academic achievement as well as potential in their field.
The vast majority of fellowships are available to graduate and postgraduate students. There are also some undergraduate fellowships available.
What Exactly Is a Fellowship Program?
Fellowships can refer to a variety of different things. They could be referring to merit-based scholarships. The term fellowship can also refer to a job for recent graduates. Fellowships, in general, are awards that assist scholars in furthering their education.
Fellowship programs may assist students in paying for their education, which may include tuition, books, and supplies. Others may only pay for research funds. Some fellows may be required to participate in an internship or volunteer work.
What Are the Advantages of Participating in a Fellowship?
There are numerous advantages to participating in a fellowship. To begin with, receiving a fellowship is a great honor because it is a very prestigious award.
The following are some of the advantages of a fellowship:
Hands-on work experience: Fellowships are an excellent way for students to gain hands-on work experience. Fellows are given a lot of responsibility. This is not always like this with entry-level positions. This is an excellent way to get ready for your first job after graduation.
Financial support: A fellow's salary or stipend is unlikely to make them wealthy. However, receiving a stipend while conducting research and gaining experience is advantageous. We'll go over the financial aspects of things later.
Sharpen professional skills: Fellows have numerous opportunities to develop and improve their skills. These may include public speaking, community service, and leadership abilities.
Make connections in the field: Fellowships offer numerous opportunities for networking. This is, of course, advantageous when looking for work after graduation.
Opportunities for professional development: Fellowship programs invest in their fellows and provide opportunities for professional development. Fellows have the opportunity to attend conferences, seminars, and various training sessions, as well as receive mentorship. All of these opportunities enable fellows to accomplish a great deal in a short period of time.
Resume boost: Fellowships are a fantastic way to boost your resume. They make you more appealing as a candidate for future positions.
RECOMMENDED: 9 simple tips writing your first resume and CV
What Kinds of Fellowships Are Available?
Graduate Fellowships: Graduate students are eligible for these fellowships. Fellowships may be awarded by colleges or educational organizations. Fellows may be eligible for tuition assistance, a monthly stipend, and health insurance. They may also have professional development opportunities, such as attending academic conferences.
Fellowships in Medicine: After completing medical school and residency, doctors can pursue a medical fellowship. Medical fellowships enable them to advance their medical education in a specific field. An orthopedic surgeon, for example, can pursue a fellowship in pediatric orthopedics.
Research Fellowships: Research fellowships provide funding for students to conduct research. Graduate or postgraduate students, scholars, or scientists are eligible to become Fellows. They could be undergraduates in some cases.
Postdoctoral Fellowships: Postdoctoral fellowships are available to students who have completed their doctorate degree. These fellowships enable them to carry on their research. Fellows are typically required to teach courses as part of their postdoctoral fellowship.
Is a Fellowship a Form of Financial Aid?
Most fellowships include a monetary stipend, but some are not. Fellowships that are funded may include a monthly stipend. Others may offer a salary comparable to an entry-level position. Some may also provide health insurance, housing stipends, and reimbursement for travel expenses. Fellows are not required to pay taxes on their fellowship earnings.
The prestige of the position is more important than the monetary award. The work experience that fellows gain from the fellowship is also important.
How Long Does a Fellowship Last?
The duration of a fellowship varies according to the type of fellowship. They are usually one year long, but they can be as short as a few weeks or as long as a few years. Fellows who meet the eligibility requirements may be able to renew shorter fellowships.