DAAD Scholarship: Research Grants – Doctoral Programs in Germany Under this category, DAAD sponsors international scholars: Graduates, Doctoral candidates/Ph.D. students, and Postdoctoral researchers to undertake doctoral studies and research projects in Germany.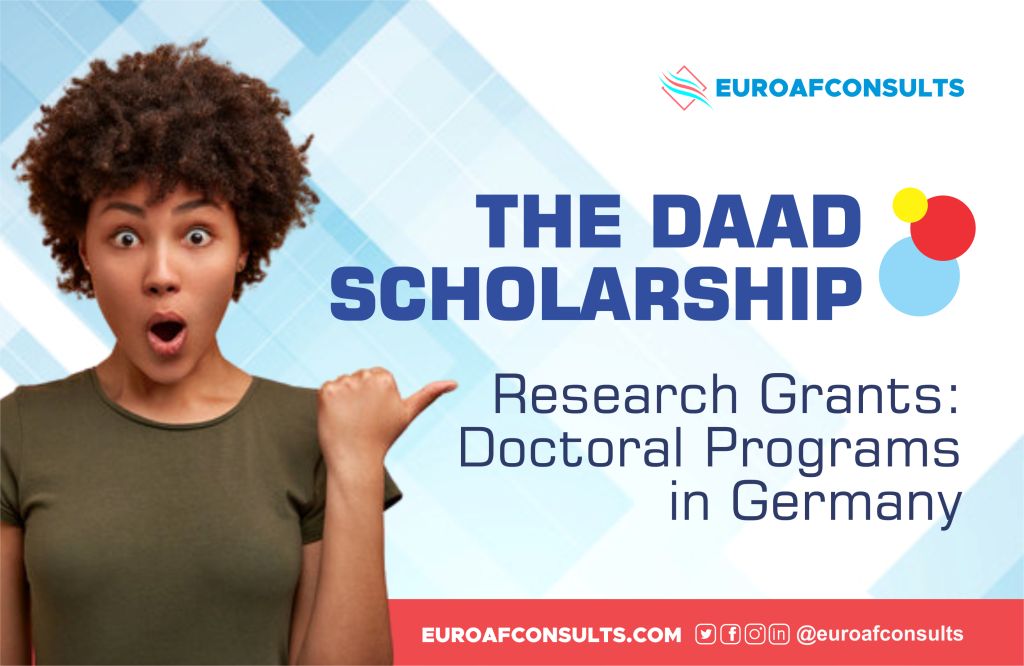 Level of study:                                   Doctoral candidates/Ph.D. students, Postdoctoral researchers
Program Duration:                               4 years (Maximum)
Funding organization:                         DAAD
Study location:                                    Germany
Language of instruction:                   German or English
Application Deadline:                        31 Dec 2021 (country dependent)
Application Start date:   Application starts six (6) weeks before the application deadline. However, it is wise to start preparing your application documents
First, I must say that the application process looks a bit cumbersome, but very straightforward if you are keen. Therefore, I advise that you take your time and prepare well for this application in other to successfully submit a competitive application and increase your chances of winning this prestigious grant!
Benefits  For DAAD Scholarship: Research Grants (what the scholarship covers)
Tuition fee                                                                                            No tuition fee (free)
Monthly allowance for doctoral/Ph.D. students                                        €1200 Euro
Travel Allowance from home country to Germany                                   Allowance (depends on country)
Research allowance                                                                                  €500/year (depends on program)
Health insurance, accident, and personal liability insurance (monthly) And under certain circumstances, DAAD also provide additional benefits such as;
Study allowance (twice – at the beginning & end of study)                      €460  
Monthly allowance for accompanying family members                            Spouse: €300, + €200/child
Preparatory Language Course: DAAD sponsors a compulsory preparatory German language course of 6 months before the start of your study in Germany.
Brief description Of DAAD Scholarship: Research Grants
This is one of the various scholarship programs offered by DAAD, to study or carry out research in Germany. It is targeted at:
Excellently qualified young academics and scientists holding a Master's degree or equivalent at the latest by the start of their grant-supported research in Germany
Pursuing a doctoral program at a state or state-recognized higher institution or a non-university research institute in Germany. Candidates research must fall into one of these categories:
may carry out individual projects under the supervision of a university teacher or academic adviser or
you are applying to participate in a structured doctoral study program
Requirements and Prerequisites DAAD Scholarship Research Grants
The typical applicant for this scholarship should:
Be currently working or has worked either in the public sector or a state or private company in a developing country (min. 2 years related work experience after bachelor's degree)
Holds a good Master's degree or equivalent in a related subject
His/her Academic degrees should normally not be more than 6 years old (exceptions exist)
Must not have been residing in Germany for longer than 15 months at the application deadline
Applicants from medical fields please read further requirements here
Language requirements

For German taught Course: Candidates must provide proof of German language skills
For English taught Course: Proof of good English skills is requires

Proof of current and past work situation: All applicants are required to provide proof of professional work experience (min. 2 years) and specify their current work status at the time of application. Thus they must submit:

Employment certificate(s) which should state the exact position and period of employment
Reference letter from employer(s), normally, it should include a guarantee of re-employment after completion of study in Germany

Research plan/proposal
Eligible Countries: Doctoral Programs in Germany
Under this category of Development-Related Postgraduate Courses, offered by DAAD, applicants must come from one of the following countries: 
| | | | | |
| --- | --- | --- | --- | --- |
| Afghanistan | Comoros | Iran | Montenegro | South Sudan |
| Albania | Congo | Iraq | Morocco | Sri Lanka |
| Algeria | Congo, Democratic  Republic | Israel | Mozambique | Sudan |
| Angola | Costa Rica | Jamaica | Myanmar | Suriname |
| Antigua and Barbuda | Cote d'Ivoire | Japan | Namibia | Switzerland |
| Argentina | Cuba | Jordan | Nepal | Syria |
| Armenia | Djibouti | Kazakhstan | Nicaragua | Taiwan |
| Azerbaijan | Dominica | Kenya | Niger | Tajikistan |
| Bangladesh | Dominican Republic | Korea | Nigeria | Tanzania |
| Belarus | Ecuador | Kosovo | North Macedonia | Thailand |
| Belize | El Salvador | Kyrgyzstan | Pakistan | Togo |
| Benin | Equatorial Guinea | Lao People's Democratic Republic | Palestinian Territories | Tunisia |
| Bhutan | Ethiopia | Lebanon | Panama | Turkey |
| Bolivia | Gabon | Lesotho | Paraguay | Turkmenistan |
| Bosnia and Herzegovina | Gambia | Liberia | Peru | Uganda |
| Botswana | Georgia | Libya | Philippines | Ukraine |
| Brazil | Ghana | Macao (CN) | Rwanda | Uruguay |
| Burkina Faso | Grenada | Madagascar | Saint Vincent and the Grenadines | Uzbekistan |
| Burundi | Guatemala | Malawi | Sao Tome and Principe | Venezuela |
| Cambodia | Guinea-Bissau | Malaysia | Senegal | Vietnam |
| Cameroon | Guyana | Mali | Serbia | Yemen |
| Cape Verde | Haiti | Mauritania | Seychelles | Zambia |
| Central African  Republic | Honduras | Mauritius | Sierra Leone | Zimbabwe |
| Chad | Hong Kong (CN) | Mexico | Singapore | |
| Chile | India | Moldova | Somalia | |
| Colombia | Indonesia | Mongolia | South Africa | |
However, if your country is not on the list, you can still check the Over 190 different DAAD scholarship programs offered to scholars from different nationalities.
Courses Eligible for Funding: DAAD Scholarship Research Grants – Doctoral programs in 
Germany
 Sponsorship is offered in the following fields:
Language and Cultural Studies
Law, Economics and Social Sciences
Mathematics/Natural Sciences
Medicine
Veterinary Medicine/Agriculture, Forestry, and Nutritional Sciences
Engineering
Art, Music, Sports
Documents needed for DAAD scholarship application:
To be Uploaded to DAAD Portal Online

Online application form
List of publications (max. 10 pages)
Full curriculum vitae in tabular form (max. 3 pages)
Research plan/proposal, prepared and composed by you, and a description of previous research work (max. 10 pages in total)
For individual projects supervised by a university teacher in Germany:

Letter confirming supervision by a university teacher in Germany
Schedule of planned research work

For structured doctoral program:

Admission letter to the study program (can be submitted later, if not available at the time of application).
Provide proof of existing contacts to the coordinator of the doctoral program in form of copies of correspondence.

Diploma or degree certificate indicating final grade(s) (can be submitted later)
Other documents that support your application. Eg.:

Employment certificate, Internship certificate, etc

German or English translation of documents (if documents are in other languages)
Note: If due to Corona you are unable to provide a Language proficiency certificate, there is an exemption. Check here under "Current note"
To be submitted by post:

One recent reference/recommendation letter from a university teacher, which gives information about your qualification. Must have letterhead and hand-signed. No digital or scanned signature.
How to Apply/submitting an application on Daad Scholarship Research Grants – Doctoral programs in 
Germany
Step 1: Register in the DAAD portal (you can read notes on registration here)
Step 2: Request references

A template form is available in the DAAD portal in the section "Request reference". Please send this form to your referee via email and ask that the completed reference form be returned to you in a sealed envelope for onward posting to DAAD.

Step 3: Apply online in the DAAD portal (you can read notes on applying online here)

Download and complete the online application form
Prepare application documents
Translate documents (if docs are not in English/German).
Scan paper documents (except references) and save in PDF format.
Upload completed application form and other application documents (only PDF format). Translations, where applicable, should be uploaded in addition to documents issued in the original language.
Submit the uploaded application documents online.

Step 4: Send application documents by post

References must be sent in the "unopened" envelope to the application location. I.e the DAAD office in charge of your country
Note:
IMPORTANT: Only complete applications are considered.
Application Deadline: 31.12.2021 (country dependent)
Application Starts: Application starts six (6) weeks before the application deadline
For more details visit DAAD official site: Doctoral Studies – DAAD
Video of the step by step online application will be made available soon
Written by Chukwuemeka L. Ihemaguba
Hello, Thank you for visiting and reading through the article.
My name is Chukwuemeka L. Ihemaguba, the founder and CEO of EuroAfConsults. Having completed my Bachelor's degree in Industrial Physics, Nigeria, I won a prestigious scholarship and proceeded to the University of Miskolc, Hungary, where I obtained my master's degree in Materials Engineering with a Distinction. Thereafter, I moved to Ruhr University, Bochum, Germany for further studies, and I'm currently working at this university, as a research assistant at two different institutes: Laser Application Technology  & High Entropy Shape Memory Alloys. I am passionate about helping international students achieve their goal of studying abroad, either on scholarship or self sponsorship, hence this platform was developed for this purpose…