Fully Funded Eni Scholarships 2022/2023 [University of Oxford] – St Antony's College, University of Oxford, in collaboration with the international integrated energy company Eni, is offering a fully funded degree to up to three students from Angola, Ghana, Mozambique, Nigeria, or the Republic of the Congo (Congo-Brazzaville) in 2022/2023.
These scholarships will enable St Antony's to admit up to three of the best African students regardless of financial means, adding immeasurably to the College's diverse and intellectual prowess.
This is part of a joint Eni and St Antony's College initiative to invest in and strengthen African leadership.
St Antony's and Eni are both eager to encourage and, where possible, provide structured incentives for Eni Scholars to continue their studies or find useful employment in their home country after graduating from Oxford.
ALSO READ: How to Immigrate to Canada as a Pharmacist
Eligibility For Eni Scholarship
Applicants must be resident in Angola, Ghana, Mozambique, Nigeria, or the Republic of the Congo to be eligible for the scholarships (Congo-Brazzaville). Applicants with a first degree from an African university will be given preference.
The scholarships will be awarded based on academic merit as well as potential and financial need. Applicants with clear plans to use their accumulated knowledge to benefit their home country after graduation will be given priority.
Check that you meet the entry requirements for your course, including the English language requirements.
Eligible Courses:
MSc African Studies
MSc Economic & Social History
MSc Economics for Development
MSc Global Governance and Diplomacy
ALSO READ: Reasons Why You Find Some Courses Difficult In School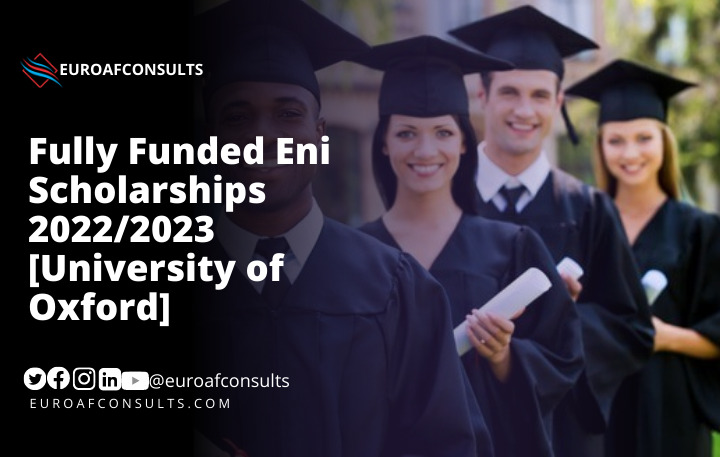 How to Apply for the Fully Funded Scholarship
1. Apply online to the University of Oxford for one of the above-mentioned eligible courses.
You must submit your application for graduate study to the University by the January deadline (7th or 21st January 2022 depending on the program applied to – check the University's application deadline guidance) and you must have secured a place on your chosen program of study by the final completion date (1st March 2022).
It would be advantageous if you select St Antony's College in the college selection section of the application form, though this is not required.
2. After applying to the University, please fill out the online Eni Scholarship application form. The form must be submitted by 5 p.m., UK time, on March 1, 2022.
Benefits
1. Fees are waived in full, and an annual grant for living expenses is provided. The stipend for courses of varying lengths will be adjusted accordingly.
2. The scholarship also includes one economy return ticket from your home country to the UK at the beginning and end of your course.